Technology & Product Innovations.
Jack in the Box Franchise System Size and Composition
Our franchise business model is exceptionally flexible, which is one of the reasons we operate so many restaurants. How many Jack in the Box locations are there? We currently have 2,100 restaurants with more in development.
From the very beginning, back in 1951, we set ourselves apart with our innovative drive-thru system – we were the first major burger chain to use one! Today, we continue to set ourselves apart by improving drive-thru technology, making it easier for our customers to order and enjoy their meals.
Hospitality Tech reports: "70%+ of business comes through the drive-thru, and about half of its dining room orders are for takeout. '…Drive-thru enhancement is probably the number one area of focus for capital investments.
Decidedly, we continue to trailblaze with other technologies as well. Our mobile app and partnerships with delivery services allow our customers to order ahead: or even get their meals without leaving their homes. This dedication to research and development is just one of the distinctive advantages of partnering with a major franchise.
Flexible Franchise Prototypes.
Non-Traditional Franchise Concepts
Jack in the Box® is a convenience-driven restaurant chain. A vast majority of Jack in the Box guests come from within two miles or six minutes in drive-time. To maximize that convenience factor, it's vital that prospective sites are the most accessible and visible locations available.
Jack in the Box can help you set up new locations wherever there's a strong demand in your community. Our restaurants don't need much space: it enables us to set up shop in small or shared areas like food courts. Alternatively, our full-size restaurants are always popular draws. This versatility allows our franchisees to open their doors in:
Convenience Stores
Travel Centers, Airports
Hotels & Major Retail Centers
Wherever people are in need of a great new restaurant!
Drive-thru enhancement is one the biggest area of focus for capital investments.
Jack in the Box Franchise Financial Requirements.
Minimum Franchisee Requirements (Per Group):
$250,000
(1-2 unit acquisition)
$500,000
(3 + unit acquisition)
$750,000
(5 + new development)
Operator is an equity partner
Real estate development experience
Passion for the restaurant industry
A Menu to Tempt Any Palate.
Especially On the Go.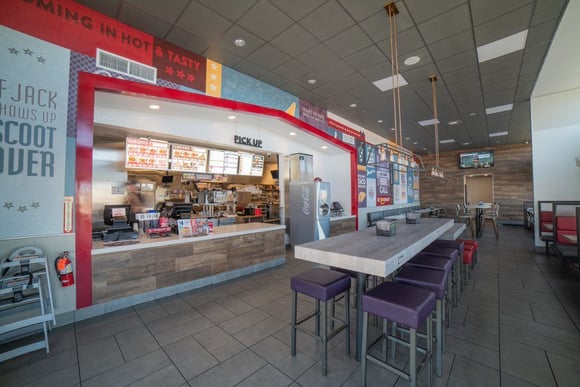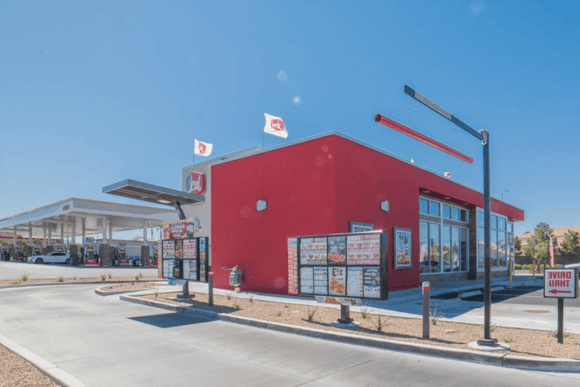 Our Franchise Development Teams.
We Make Sure Our Franchisees Are Involved from Day One
It's impossible to overstate how much we value our operators. They're the ones running their restaurants every day, working within their communities to achieve their growth goals. As a franchisee operator, you'll enter into a collaborative relationship with the Jack in the Box team.
We want to make sure you have resources and assistance to simplify running your business. From site selection to our comprehensive training program to regular franchisee meetings and events, we're here to support you!
A Day in the Life of the Operator
Each operator's typical day varies depending on the number of locations they run, the location type, and so forth. However, there are a few tasks most of them take part in regularly. A day in the life of an operator likely includes:
Reviewing sales from the previous day
Managing employees (e.g., training, payroll, recruitment, and so forth)
Ensuring food safety and quality using our proven systems
Preparing for new menu items with the support of our team
Assuredly, when operators run into obstacles or have questions, they can rely on our 24/7 help desk to find the answers they need!